Best 8 DreamHost Alternatives 2019 
I have been a user of DreamHost for a long time, but I have since switched to some better hosting after facing lots of DreamHost downtime issues.
I was running a WordPress site, and at times, I would get emails from DreamHost saying my site was using too much memory and I should remove some essential plugins like Yoast SEO and YARPP.
If you are using WordPress for running your blog or website, you know how important SEO & related post plugins are…
Later, I decided to move my blog away from DreamHost because I'd found a few affordable DreamHost alternatives which could support my growing blog.
A few of these hosting companies have won awards & offer way better customer support than DreamHost.
DreamHost Frequent Downtime & Degrading Support Quality
DreamHost is a reliable hosting company, but it was not meant for me.
I was facing continuous internal server errors, and finally, I had to move my sites away from the platform.
Apart from downtime, it was the lack of support that finally made me tackle the pain of switching hosting companies. Eventually, it turned out to be a pain worth taking.
Last time when my DreamHost hosting was down, I searched on Twitter.
I searched with "DreamHost down" and got these results: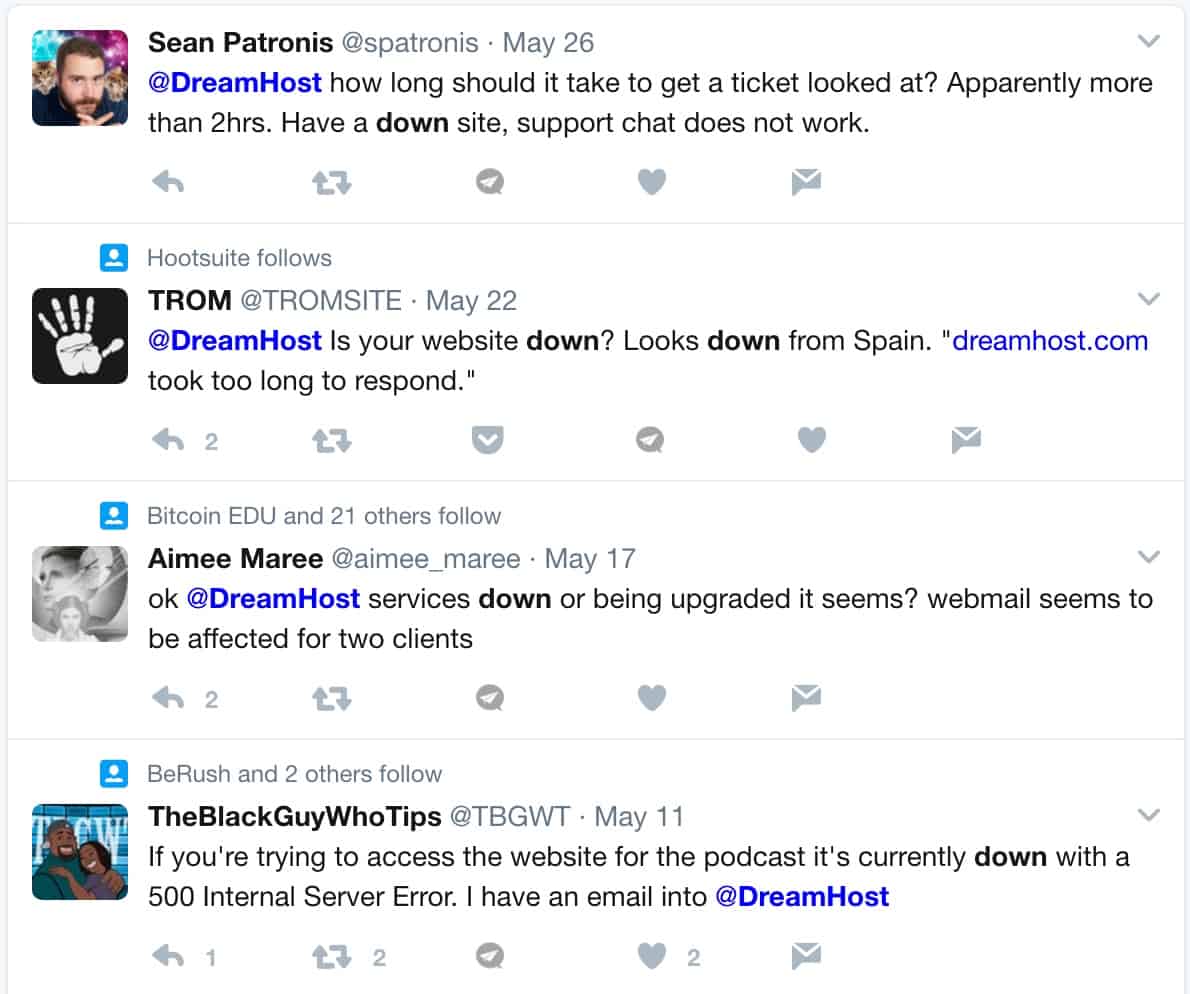 Such major outages are not good for our company reputations, and if our websites are down for a prolonged period of time, our search rankings could be affected.
Best DreamHost Web-Hosting Alternatives?
Based on factors like pricing, support, hardware quality, awards, and a few other things, I have compiled this list of best DreamHost alternatives that you can pick from.
Note: Right now I'm hosting 2 of my sites on Bluehost and used the Duplicator WordPress plugin to move my site from DreamHost to Bluehost.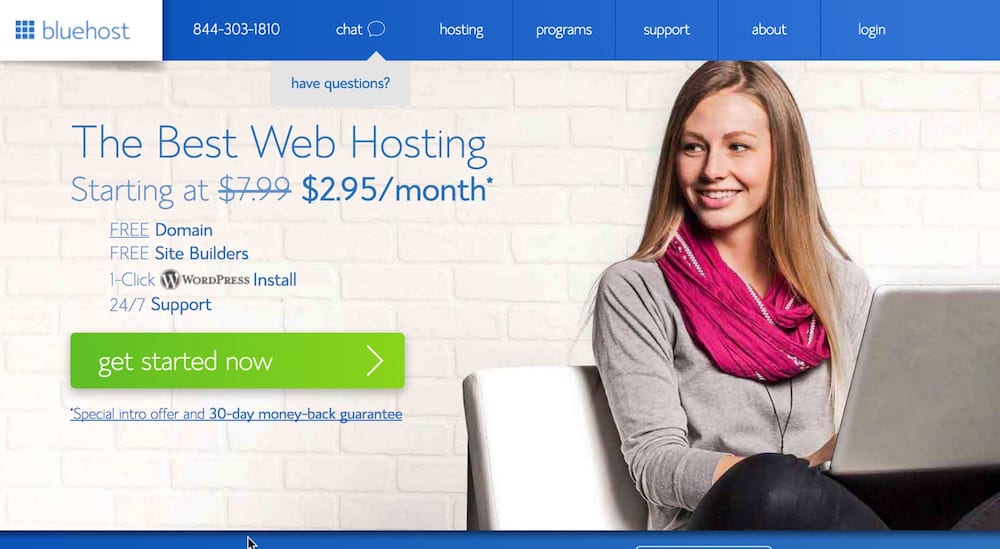 Bluehost is an EIG-owned hosting company and is officially recommended by WordPress.org for hosting WordPress sites.
I have a few sites hosted on Bluehost (all WordPress) and so far I have had no issues with their server quality. Moreover, they offer a free SSL certificate which is an important feature that you definitely need for your website.
Their customer support is way better than DreamHost, and they are one of the most affordable shared hosting plans you can get ($4-$10).
You will also get one free domain with your hosting purchase from Bluehost.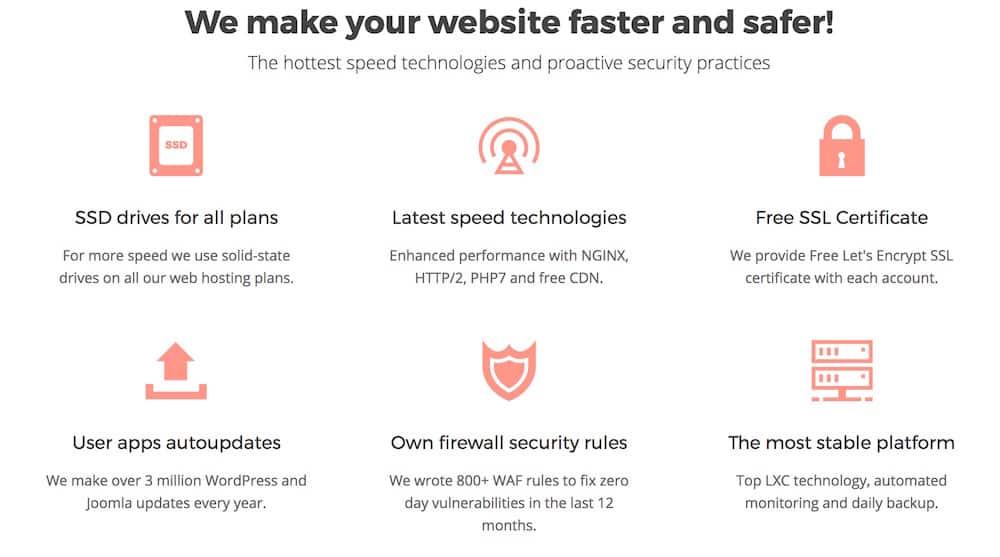 Siteground is one of those customer-oriented hosting companies which is becoming more popular every day.
This is the only hosting company which offers a domain for life, as long as you are hosted with them.
Siteground offers various hosting packages including shared, VPS, cloud, and dedicated.
Their shared hosting infrastructure is great and many experts compare it with WPEngine hosting but for a cheaper price.
They also offer a free migration of your main site, so you will have no problem moving your site from DreamHost to Siteground.
You can use the below link to get a free domain + hosting at 60% off from Siteground.
Get hosting from Siteground (60% discount added)
If you are looking to move away from DreamHost hosting, I would recommend grabbing either Siteground or Bluehost.
3.InMotion Hosting
Cheapest Price: $3.49 a month (56% off for Ecommerce Sprout visitors available : Click Here)
 Why Switch to InMotion Hosting?
Much like SiteGround, InMotion Hosting is a complete upgrade over GoDaddy. A lot of sites are transferring to InMotion Hosting because of their improved performance, simple onboarding process, reasonable renewal fees, and unmatched customer service. In other words, InMotion Hosting is in a completely different league. In addition, they maintained a perfect hosting rating from CNET (one of the largest product review and tech news sites on the internet) so you can rest easy.
InMotion Hosting Pros
You get a basic website builder, drag and drop editor, and website templates when you buy hosting.
InMotion Hosting integrates well with external applications such as WordPress, Joomla, Bold Grid, and Magento.
You get a free domain name when you buy hosting.
InMotion Hosting will give you a $250 advertising credit for Google, Bing, Yahoo, and Yellow Pages.
You can choose a data center location on the East or West coast.
The 90 day money back guarantee protects your purchase if you are not satisfied with the hosting service.
InMotion Hosting Cons
After you sign up, you have to complete a manual verification process through the phone to fully activate your hosting account (this reduces spam and fake users on their servers).
The Launch plan (costs $3.49 a month) allows you to host two sites under the same account.
The Launch plan is not suitable and ready for ecommerce.
Who Uses InMotion Hosting?
InMotion Hosting hosts 450,000+ sites including The Best Schools, Operations Rescue, and Christian Patriot.
4.A2 hosting :
Cheapest Price: $3.92 a month (Discount coupon for upto 50% offavailable : Click Here)
Why Switch to A2 Hosting?
My favorite. Makes your site upto 20X Faster, high uptime ( my site was 100% up last month according to pingdom reports) & excellent support gurus.
A2 Hosting Pros
SSD as mode of storage make storage and fetching files faster compared to the conventional HDD mode used by many
Anytime Money Back Guarantee
24/7/365 Technical Support(Most importantly)
99.9% Uptime Guarantee
Upto 20X faster service
Free Website Templates
1-CLICK automated Installation, of apps like WordPress,
Shared,VPS,Wordpress,Cloud and dedicated hosting present at one place, can upgrade on need basis anytime to any plan.
Multi Domain hosting, based on your wish you can host as many number of domain or websites in the same place.
Discount coupon for upto 50% off available : Click Here
A2 Hosting Cons
*Requires Swift or Turbo Hosting Plan
Server Rewind Backups also require Swift or Turbo Hosting Plan
Turbo Server only available with more expensive hosting plan
5. Godaddy
 
Cheapest Price:
$1 Per Month Web Hosting + Free Domain
Get web hosting for only $1 per month and a free domain with this offer from GoDaddy! That's up to $100 in savings. No GoDaddy promo code required, just click through this link to see the offer details.
$0.99 .com Domains With GoDaddy.com Code
Use this GoDaddy.com coupon code to get a fantastic deal! Enter the promo code and activate $0.99 .com Domains! Use the code :
cjc99com
Why Switch to Godaddy?
They are a stable and dependable company that is likely to be around for some time. In addition to their domain registration and web hosting products, they offer services to help you with online marketing, security, and protection. Their products are well-documented, and they boast 24/7 customer service availability just in case you run into any issues.
Prices are variable, depending on the plans and options you choose. You can opt to purchase just a domain name from GoDaddy, or you can splurge for all of the bells and whistles: profession site development, cloud storage, dedicated hosting, a complete set of e-commerce tools, and so on. Because GoDaddy manages all of these features, you don't have to worry about any compatibility issues.
Godaddy Pros
The company's pricing is cheaper compared to most web host choices.
» Unlimited bandwidth right from the most basic hosting plan.
» Offers a full circle of services from the registration of your domain, to the hosting of your site, to email and security services. This saves you the trouble of having to purchase separate services for your site.
» The company's website builder is visually friendly and has a drag and drop interface that makes it easy to insert content on pretty much anywhere you want.
» Provides email accounts for most hosting plans and also gives you the option of purchasing more advanced email services. This is a huge benefit for business websites as owners can engage in email marketing.
» GoDaddy does its security very well and has plenty of technology specially dedicated to thwarting spam and hackers.
» You can be able to optimize all of the basic SEO functions of each of your web pages using GoDaddy's website builder.
» The available cPanel is easy to use and is equipped with more than the standard array of features.
» All hosting plans come with a 45-day money-back guarantee. This is lengthier than the standard 30-day refund offered by most web hosts.
» This web host boasts of using the latest web hosting technology.
Godaddy Cons
» One of the biggest downfalls of GoDaddy is the fact that you cannot change themes once you have chosen one of the pre-made designer templates without losing your content. Therefore, you have to be 100% sure that you have found the perfect theme before committing one of the templates.
» The company's website builder mobile display is not as great as those of other websites.
» According to a good number of users, GoDaddy is not too helpful when customers need help switching to another web host.
read the article :
Godaddy alternatives and the secret revealed
Who Uses Godaddy?
GoDaddy is well known from their racy Super Bowl ads. But behind the gloss (and in some cases, grime), GoDaddy has more than 16 million customers, 70 million domain names under their management, and a staff of over 6,000, making it one of the largest, most famous, and most popular hosting providers.
6.DreamHost Alternatives : fastcomet
Cheapest Price:$2.95 a month (20 % off you can apply with promo code CLOUD2018 or 10% off for shared I can add as a special offer once you place order for 3 years billing cycle or 5 % off you can apply with promo code : welikeyoutoo her)
Why Switch to fastcomet?
FastComet continues to win many hearts day by day because of its true performance and promises to provide super and better web hosting plans to the users, so choosing this hosting is the right choice which I can give assurance and still if you need any further information go to their website reach 24/7 support center and clarify your doubts.
Yes, this website hosted with FastComet servers the best WordPress cloud hosting provider with 24/7/365 Support.
If you have good knowledge about web hosting means you can check the following test and reports provided in this FastComet Review 2019 and take a right decision.
Or if you are new to the online industry who want to launch a website and looking for the best and trusted web hosting means then Visit FastComet straight away and purchase any hosting plans.
In short for you Choose FastComet
If you want
24/7/365 Support
Free domain for lifetime ( You pay only for hosting every year)
Free CDN & SSD.
Daily backups
99.99% Uptime Commitment
Same renewal price (Pay the same amount every year)
Fastest loading website
Shared Hosting plan has three packages:
Single website Plan – $2.95/mo with 15GB SSD space (Single Website)
ScaleRight Plan – $6.95/mo with 25GB SSD space (Unlimited Hosting)
SpeedUp Plan – $12.95/mo with 35GB SSD space (Unlimited Hosting)
Fastcomet Pros
Same renewal price
Free domain forever
Free SSL
SSD Hosting
Free email hosting
Fastcomet Cons
Basic package not faster as expected but faster than other hosting company starter plans.
Setup fee for one month billing plans.
has been providing services since 2002 . Company offers shared, reseller and dedicated hosting services. HostGator's motto is "We eat up the competition" so they do all the best to hold their leading positions in the hosting industry. HostGator
Web hosting made EASY and AFFORDABLE.
Hostgator.com is the most wanted cPanel web hosting company, 5 million domains hosted proof them very well. HostGator is famous for their highest quality cPanel web hosting plan. High performance cPanel shared hosting plan from price $3.48 per month, and now available in 25% discount. Hostgator shared web hosting service is divided into three packages, basic plan with single domain hosting and baby plan with unlimited domains are two famous plans. The third plan is the Hostgator business package that is designed for e-commerce websites and suitable for online commerce website.
HostGator is world leading web hosting company, they are the fastest growing and the most recommended web hosting service. They have shared hosting, Virtual Private Server VPS plan, dedicated servers and reseller hosting plans. Hostgator hosting packages are well planned and provides all features that webmasters requires to be successful with their online websites.
Hostgator is great in after sales service too. The Hostgator technical support and customer support are well known and one of the best too. Hostgator support team are now available via live chat online, via phone support and email support as well. They are available 24/7. The Hostgator plans are covered by 45-days money back guarantee, no risk to take, hosting with Hostgator is risk-free
Hostgator web hosting feature:
One Click Installs   
Unmetered Disk Space & Bandwidth   
Free Website Builder & 4,500 Templates
Easy to Use Control Panel (cPanel)
Unlimited Email Addresses
24/7/365 Technical Support
45 Day Money-Back Guarantee
$100 AdWords Offer + $50 Search Credit
Starting at only $2.75/mo
In case you are on managed VPS or have a dedicated server on DreamHost for WordPress, grab Kinsta web-hosting instead. I recently moved one of my fashion blogger friends from DreamHost dedicated to Kinsta hosting.
Not only is she saving money, but she also stopped getting those crawl errors in Google Search Console.
How long have you used DreamHost servers? How has your experience been, and is there another DreamHost alternative you would like to recommend us?